Discussion Starter
·
#1
·
Here are my elemination rounds,I made it to the third round but was sleeping at the light in the 3rd round and lost.
My bike ran pretty good except for after 5 passes the plugs would cut out in 5th gear.My best pass was a 4.44 at 74mph in 300 feet.I had issues hooking up and could only get 1.711 60 foot times out of her.I am wearing the red hoody.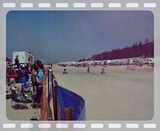 Here are a couple of pics of test and tune carnage of my bike.The track worker that was grading the track turned right after the finish line leaving a 9 inch pile of wet sand across the track.I was told when I hit it my bike and I jumped 4 feet strait in the air.I ended up staying on all 4 wheels but compressed my back pretty badly.